Lesson 3: Settings
/en/windows98/programs-and-favorites/content/
Introduction
By the end of this lesson, you should be able to:
Customize taskbar and printer settings
Set the time and date on the computer
Working with Settings
Settings, located on the Start menu, allow you to customize your computer so it looks and operates the way you want. In this lesson, you will learn how to change your taskbar and printer settings and set the time and date on your computer.
To change the look of your taskbar:
Click Start.
Choose SettingsTaskbar & Start Menu.
Choose the Taskbar Options tab.
Click inside the check box beside the option(s) you want. A check mark appears. (To undo or deselect an option, click inside the box next to the option, and the check mark disappears.)
Click OK after you have chosen the options you want.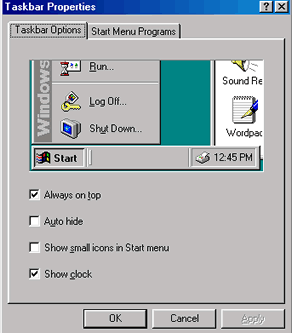 Printer settings
Settings also allow access to the Printer settings. These settings allow you to control how documents are printed.
To access your printer settings:
Click Start.
Choose SettingsPrinters. If you have a printer, a window appears showing the icons for your printer(s).
Right-click the icon for your printer.
Choose Properties. The printer's Properties dialog box appears.
Click the Printer Settings tab, then then choose the number of copies you want to print. If you work in an office where many people use the same printer, you can also enable banner settings. This allows a page to print with your name on it so people know that the documents being printed belong to you.
Close your printer's Properties dialog box.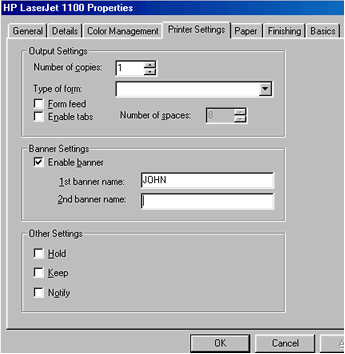 Canceling a print job
If you accidentally send a 50-page report or some other document to the printer, you can stop the job from being printed.
Choose Settings

Printers. Double-click the icon of the printer that has been installed for your computer. A window appears, showing the number of jobs waiting to be printed (the number of jobs in the queue).
To remove a document from the print queue, right-click the document name and choose Cancel Printing. The document name will disappear, and it will not get printed.
Setting the time and date
Windows 98 allows you to set the time and date on your computer. It also lets you set the computer to automatically adjust your clock for daylight saving changes.
To set the time and date:
Click Start.
Choose SettingsControl Panel.
Double-click the Date/Time.
The Date/Time Properties dialog box appears with various options.
Click the correct month, year, date, and time on the Date/Time tab.
Click the Time Zone tab, then choose the correct time zone.
Choose OK.
Choose FileClose.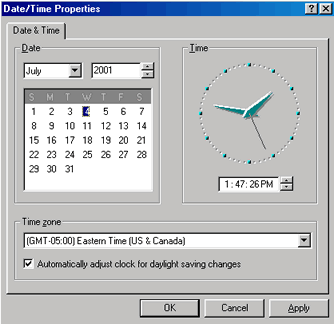 Quick Tip: To set the time, double-click the time displayed on the taskbar at the bottom-right corner of the computer screen. When the dialog box appears, set the time and choose the correct month, date, and other options. Click OK.
Challenge!
Set the correct time and date on your computer.
Choose your taskbar settings.
Continue
/en/windows98/customizing-the-desktop/content/